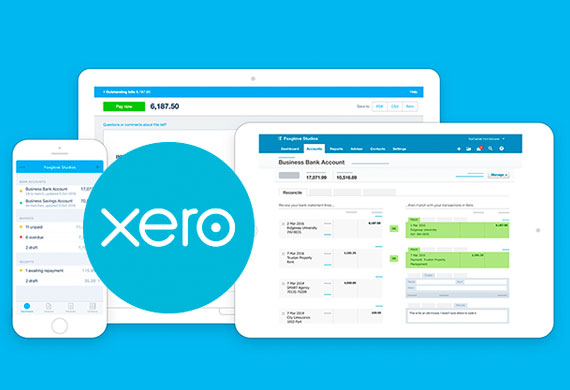 24/02/2021, Comment off
Xero or Sage?
We often get asked to recommend Accounting packages and as Xero partners we have made a clear choice and recommend Xero to our clients. Xero is extremely popular with new start ups while more established companies will be using a variety of systems with Sage having a significant market share. 
So how do Xero and Sage compare?
Cloud 
Xero is cloud-based and the third-party applications which can be added are extensive So you can manage your finances whether you're in the office, or confined to home during lockdown. Sage 50 Cloud was a response to the competition Sage was getting from cloud based systems like Xero, but it still needs some software installed on a desktop to work properly. Later versions of Sage seek to address this but are more expensive.
Pricing
There are two levels of Sage 50, Standard, and Professional, costing £65 and £132 per month respectively. Xero has three pricing levels: Starter, Standard and Premium, costing between £10 and £30 per month. Xero and Sage 50 packages include different features, so it's not possible to compare like-for-like, but the Xero Standard plan (£24 per month) includes most of what you'd get in the Sage 50 Standard plan and you can also get excellent Foreign Currency functionality for an extra £6 per month.
Document Entry Automation

Xero recently acquired Hubdoc which now comes as standard with all Xero packages. Hubdoc allows clients to easily capture and manage their bills and receipts. They can upload their documents using their desktop, mobile device, email or scanner. Once documents are uploaded to Hubdoc, the key data is automatically extracted and synced to Xero as accurately coded transactions with the source document attached saving a lot of manual entry time.
You can get this facility in Sage by connecting third party products like Receipt Bank but this will be at an additional cost.
Payroll
You can add payroll features for an additional cost. For Xero that's £5 per month for up to five employees and £1 each after that. For Sage you'll need to buy Sage 50 Payroll, which costs from £21.75 per month for up to 15 employees. Xero's Payroll is fully integrated into the system. So, if you submit a payroll to HMRC, it'll automatically show up in your accounts. Xero also has brought out features to deal with furloughed staff in response to Coronavirus.
Other Features
Xero has an excellent fixed asset register where you can keep track of all fixed assets and it automatically calculates monthly depreciation. You can also set up Projects to keep track of job revenue and costs, useful for the construction sector. A Purchase Order systems allows you to raise and keep track of purchase orders to suppliers.
With Sage 50 Cloud you will need to purchase additional modules to get this functionality.
Users
Sage charges extra to add an additional user. With Xero, you can decide how much access your staff have, for no additional cost. Many Xero client's give all of their employees limited access to the system so that they can submit expense claims and prepare quotes and invoices themselves. It's particularly handy for businesses which have people out on the road, or working from different locations.
Ease of Use
For us, you just can't beat Xero for ease of use. It's been specifically designed with small businesses in mind, and the developers have done a great job of making everything straightforward and clear, and cutting out any confusing jargon. They also really do listen to customers and update regularly based on feedback. 
Xero represents excellent value for money, has strong functionality and has a massive range of add on applications to cater for specific needs whatever your industry.

For us Accountants there is now also the added benefit of Xero Tax which takes a client's accounting information directly from Xero to prepare the Corporation Tax returns and Statutory Accounts for Companies House.

If you want to get your team up and running on Xero, we'd be happy to organise a bespoke training session. Sage 50 is clearly designed by accountants and can take longer to get to grips with.

We think Xero is brilliant for small businesses and the price is hard to beat. If you're thinking of moving to Xero, we'd be happy to talk it through with you.